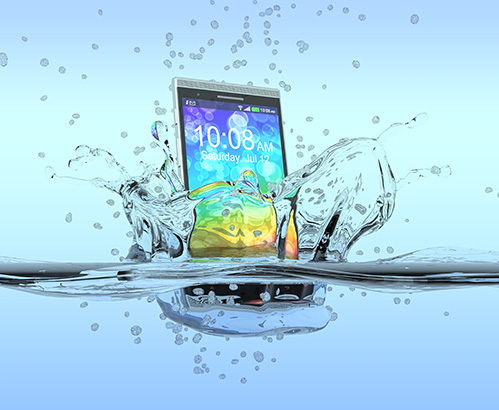 The sun is out, the beer is cold and the beach is calling. It's time to hit the beach to cool down, break in your tan for the summer, and take a selfie at the ocean with that cute new bikini! Before you jump in the water don't forget about your phone! When the tide comes in and your phone gets wet it's going to be trouble. Maybe you are trying to take a selfie in the ocean and drop your phone in the water! Water damage can be detrimental to your phone, especially salt water corrosion – which is why it is important to find the best water damaged phone repair in Pacific Beach, CA.
What to do if your phone gets wet:
Turn it off immediately!
Take out the battery and leave all the pieces separated
Find a zip lock baggie (or Tupperware) and put your disassembled phone in and fill the container all the way with uncooked rice and close shut.
Let the phone stay in there for at least 24 hours
Turn on the phone and see if the screen comes on or if there is any immediate damage. Hopefully at this point your phone survived the water!
Experiencing issues? Turn off the phone immediately and take the battery out to prevent even more damage.
Take the phone to Indiana Phones immediately for water damage phone repair in Pacific Beach, CA. The longer you wait, the worse the corrosion can become!
Don't turn your phone on for GPS, just take the 5 freeway to Pacific Beach, take Mission Bay Drive up to the 5 North entrance, turn right on Damon before you get on the 5 North, turn left into the In N Out Parking lot and you'll see Indiana Phones, waiting to save the day with our water damaged phone repair in Pacific Beach, CA!
Water damage can cause all sorts of catastrophic issues from the screen not turning on, lines in the screen, ear piece not working, speakerphone not working, charge port not working, and so on. A majority of the time we are able to fix your phone and restore it back to new! Indiana Phones is one of the few stores that will even consider working on water damaged phones. Other places will just tell you that since they can't fix it you'll have to buy a new phone and lose all your valuable selfies at the beach! Not only that, but we can fix all sorts of water damaged products from iPhones, Samsung's, iPads, goPros, cameras, laptops- you name it!
So now, rest assured you can enjoy the summer sun knowing that Indiana Phones has your back if any of your valuables get wet!
Have a great summer San Diego!
Indiana Phones
(619) 577-3065
2922 Damon Avenue
San Diego, CA 92109