iPhone Repair in Pacific Beach CA
Have you recently broken your iPhone in Pacific Beach CA? Indiana Phones is the best place to have your iPhone repaired!
We can all probably agree that iPhones are not inexpensive to replace. When your phone is broken while still under contract buying another one can cost too much. In general, the more financially advantageous alternative is to have your iPhone professionally repaired – than buying a new replacement – and finding a proven expert iPhone repair individual is the next challenge. You need to ensure that you pick somebody that is dependable, who will handle the fixing of your iPhone with the utmost care. Since iPhone repair can be a fragile procedure you ought to find an individual who has a lot of experience. This is vital, due to the fact that a mix-up during the repair could further damage the phone — and can no longer be used.
At Indiana Phones we've spent significant time with individuals who have broken their iPhone. Not just do we know how to repair the normal issues that happen when iPhones glitch, we are also prepared to repair basic coincidental damage. When you have had a "butter fingers" minute and dropped your phone on the floor smashing the screen, stop by Indiana Phones in Pacific Beach CA – we can replace/repair the damage for you. In the event that your phone's home button is not working, we can also replace/repair that sensor. If ever you are not able to pinpoint the exact issue on your iPhone, you can bring it to us and we will investigate and make sense of it!
What generation of iPhone do we repair?
Whether you are still using an old iPhone 4 or the most recent model, Indiana Phones phone repair in Pacific Beach CA has the parts and the expertise to fix your Apple cell phone. We utilize new parts to re-establish your phone into a working mode again.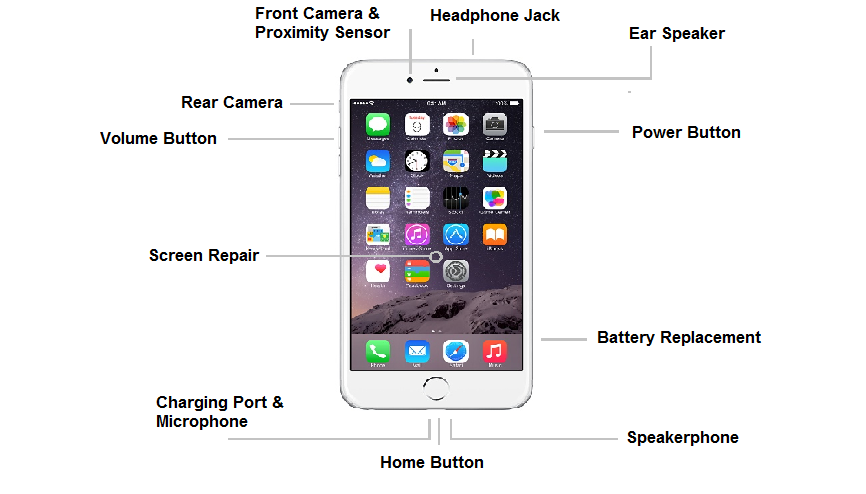 We are prepared to repair:
iPhone 4 and 4S
iPhone 5 and 5S
iPhone 6 and 6 Plus
iPhone 6s and 6s Plus
iPhone 7 and 7 Plus
iPhone 8 and 8 Plus
iPhone X
iPhone XR
iPhone XS and XS Max
What parts and capacities can be repaired and replaced?
Has your iPhone been smashed up? Here is a rundown of the capacities and parts that can be replaced. Our iPhone repair specialist can settle more than one issue without a moment's delay. The main thing we can't totally repair is severe water damage.
Please call for pricing on
iPhone X, XR, XS, XS Max
iPhone 7, 7 PLus, 8, and 8 Plus
iPhone 6
Screen Repair-Call for Pricing
LCD Replacement-Call for Pricing
Home Button-$65
Battery Replacement-$65
Speakerphone-$65
Front Camera-$65
Vicinity Sensor-$65
Back Camera-$75
Power Button-$75
Ear Speaker-$65
Earphone Jack-$65
Charging Port-$65
iPhone 5
iPhone 5 Screen Repair-call for pricing
iPhone 5 LCD Replacement-call for pricing
iPhone 5C Screen Repair-call for pricing
iPhone 5C LCD Replacement-call for pricing
iPhone 5S Screen Repair-call for pricing
iPhone 5S LCD Replacement-call for pricing
Home Button-$60
Battery Replacement-$60
Speakerphone-$60
Front Camera-$60
Closeness Sensor-$60
Back Camera – $80
Power Button-$80
Ear Speaker-$60
Earphone Jack-$60
Charging Port-$60
Mouthpiece $60
Not sure if your phone can be fixed? It never hurts to stop by and ask our iPhone repair experts.
Visit us at:
1630 Grand Avenue
San Diego, CA 92109
(619) 577-3065
Call for an appointment!
Iphone Repair
April 21, 2016