iPad Repair San Diego 92109
Oh no! Did your iPad screen break? Thank goodness Indiana Phones also repairs iPads!
By now, you probably know that Indiana Phones is the best place to have your phone repaired in California. However, you may not have heard that we also repair broken iPads!
If you have an iPad tablet that has been dropped, stepped on, thrown at the wall, crushed or driven over (yes it happens) – the experienced iPad repair technicians at Indiana Phones can help. We specialize in repairing and restoring iPads that have suffered screen and sensor damage. Even when you are certain that your Apple tablet has been broken beyond repair we can take a look at it and see what can be done! Our team is skilled at repairing iPads, so that they will work again like new!
When you are having your iPad repaired you want to make sure that the person doing it is educated and has repaired iPads before. iPads are not cheap to replace and the small parts on the inside are delicate. When replacing and repairing your iPad you want to be very careful. It is a good idea to hire a knowledgeable repair technician rather than attempt to do it yourself. A botched DIY job could ruin your entire Apple tablet!
What generation of iPads do we repair?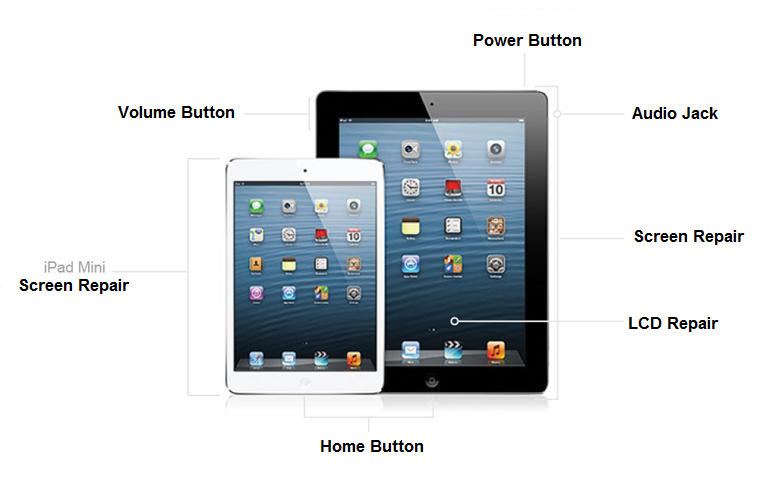 At Indiana Phones we are equipped to repair almost all generations of iPads and iPad minis.
We have the parts in stock so that you don't have to wait to have your iPad fixed. Currently, iPad repair services are available for:
iPad 2nd generation
iPad 3rd generation
iPad 4th generation
iPad mini
iPad air
What parts and functions of the iPad can be repaired and replaced?
Is your iPad quite severely damaged and are you wondering if it can be brought back to life? Even if one or more parts of your iPad (or iPad mini) have been destroyed we can still fix it. At Indiana Phones we are able to repair multiple parts and functions of broken iPads. The only thing we cannot fix is extensive water damage.
iPad 2 Screen Repair- $100
iPad 3 Screen Repair- $100
iPad 4 Screen Repair- $100
iPad Mini Screen Repair- $120
iPad Air Screen Repair- $140
Home Button- $80
Power Button- $80
Volume Button- $80
Audio Jack- $80
Still not certain that your iPad can be saved? It never hurts to stop in and ask our experts.
Come visit us at:
2922 Damon Avenue
San Diego, CA 92109
Or
Call for an appointment! (619) 577-3065
Ipad Repair
April 21, 2016